Kita tahu KFC jagonya ayam goreng tepung kesukaaan seluruh dunia. Namun tak disangka KFC jago bermain Twitter juga lho. Restoran cepat saji asal Amerika Serikat ini sedang dibicarakan oleh netizen. Akun Twitter @edgette22 menemukan penemuan terbesar tahun ini di internet. Ia menuliskan tweet seperti ini:
.@KFC follows 11 people.

Those 11 people? 5 Spice Girls and 6 guys named Herb.

11 Herbs & Spices. I need time to process this.

— 🅴🅳🅶🅴 (@edgette22) October 19, 2017
Yups benar! Akun @KFC hanya follow 11 orang di Twitter, dan mereka yang terpilih karena sebuah alasan. 5 akun yang tersebut yaitu milik anggota The Spice Girls: Geri Horner, Melanie Brown, Emma Bunton, Melanie C dan Victoria Beckham. Hmm bumbu spicy!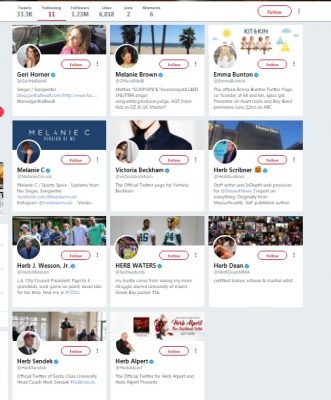 Dan 6 akun yang beruntung ada akun dengan nama depan Herb alias herba, mereka adalah Herb Scribner, Herb J Wesson Jr, Herb Waters, Herb Dean, Herb Sendek dan Herb Alpert.
KFC benar-benar mencuri perhatian, tak heran perpaduan 5 bumbu dan 6 herba yang difollow menjadi satu kesatuan rempah-rempah. Hal ini pun menjadi pertanyaan terjawab untuk akun @wendys kenapa dirinya tidak difollow back. Well, good luck Wendys!
Just realized they weren't following back.
Rude.
Good joke though.

— Wendy's (@Wendys) October 20, 2017
Baca juga:
Apa Yang Berbeda dari Akun Twitter @InfoIndomaret