One of the most anticipated movie of this year finally release. Blade Runner 2049 is a sequel to the Blade Runner (1982), which was starred  by Harrison Ford. Previously directed by Ridley Scott, but now he become executive producer.  Meanwhile Denis Villeneuve chosen as a director,  well known for directing Prisoners (2013), Sicario (2015) & Arrival (2016).
Set in 2049, Tyrell Industries were taken over by Niander Wallace (Jared Leto) who bought the company and renamed Wallace Industries. The company is making a Nexus 8 Replicant (human-android) type, new Replicant that is considered more able to obey human orders. Although with a new breakthrough, there are still rebelled Replicants so Blade Runner had to exterminate them.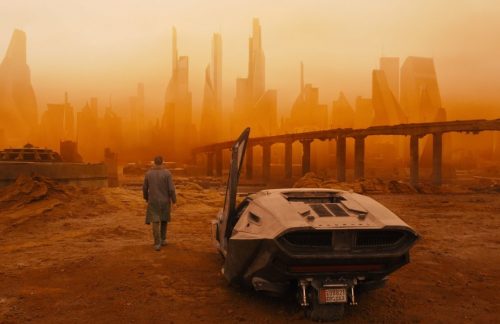 K (Ryan Gosling) is an LAPD police officer in charge of retiring them all. One of the targets is Sapper Morton (Dave Bautista). When in his location, K accidentally finds a replicant tomb traced to trigger chaos between human and the Replicants. There,  K also occur the past which made him restless. In his investigation he found the name Rick Deckard (Harrison Ford), a former Blade Runner LAPD member who has disappeared for 30 years. K tried to look for him, but was followed by Niander Wallace's subordinate, Luv (Sylvia Hoeks). Did K meet Rick Deckard?
For 35 years, this film presents the future of  California city that makes the audience amaze. Visually the most striking thing in this movie, give an applause for the cinematographer, Roger Deakins. Our eyes will also be indulged by the futuristic landscape of Los Angeles until the Dystopia of Las Vegas in the future. In addition, the music of Hans Zimmer and Benjamin Wallfisch feels solid and rhythmic in every scene.
In terms of the story, maybe if you do not follow the first movie will be a little lost, but we still can enjoy the story. As a helper, Denis Villeneuve and Warner Bros Pictures released a short film to Youtube titled Black Out 202 ", 2036: Nexus Dawn and 2048: Nowhere to Run. Well, these three short films will bridge the story of Blade Runner 2049. It's just the weakness of this movie is duration,  total 162 minutes and plot so slow, so we should be a little patient.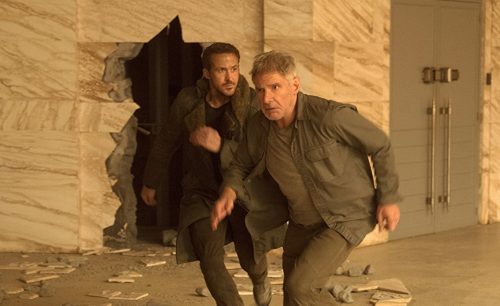 Ryan Gosling looks promising as K, tough on the outside as Blade Runner, but fragile inside because of his past. The Academy nominee can manage the emotions so well. Harrison Ford as a key character, he does not appear so much but the connection is established. Ana de Armas completes the character of K with her role as a beautiful Joi AI (Artificial Intelligence).
The Antagonist character "Luv" by Sylvia Hoeks become the spotlight, the Dutch actress was cruel and made the audience really really hate her. Complete the movie, Blade Runner 2049 also stars by Robin Wright, Mackenzie Davis, Carla Juri, and Lennie James.
So far, Blade Runner 2049 show great visual effects and CGI that spoil the eyes, solid cast ranks and reveals the past in the future. Denis Villeneuve also successfully balance the predecessor movie Blade Runner. Now on cinemas, check the schedule and buy your online tickets here.